How to Become a Lifeguard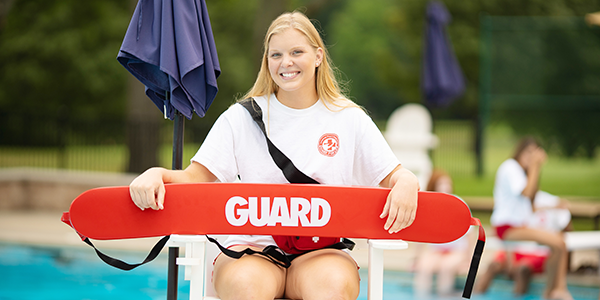 It may still be winter, but summer has a way of sneaking up on us all. Now is the perfect time to plan your Summer of 2020!! If taking on a job is part of your summer goal, then Lifeguarding is the perfect summer job for you! Lifeguarding teaches you responsibility, looks great on your college resume, not to mention great pay and life-long friendships. If this is the first time you have considered lifeguarding, keep reading to learn what steps to take to become a Guard For Life lifeguard with American Pool!
Where Do I Start?
With over 10 offices across the country, it's likely we have an opportunity for you! Each office holds hiring events and open houses throughout the fall, winter, and spring to help potential guards get the information they need and if already certified, hired on the spot! Not certified yet? Don't worry, American Pool offers discounted lifeguard training through the American Red Cross training program. Open houses and hiring events are the perfect opportunity to learn about lifeguarding and Guard For Life. Our recruiters are expertly trained to prepare you for the road ahead. If you are unable to attend an open house or hiring event, you can search all through the available positions and even apply online within minutes!
Once you have officially been hired, you can start your training if you aren't certified already! You must pass the training courses before the start of the season. There are many courses to choose from and returning lifeguards can choose to take a Lifeguard Training Review course to renew their certification and sharpen up their skills. New lifeguards or guards with an expired certification must complete the full Lifeguard Training Course. Once you have completed this course, you will officially be LGT/CPR/AED American Red Cross certified! Take a look at the course descriptions below to find out which training course you should sign up for.
Lifeguard Training Course
This American Red Cross Lifeguard course provides entry-level lifeguard participants with the knowledge and skills to prevent, recognize and respond to aquatic emergencies and to provide care for breathing and cardiac emergencies, injuries and sudden illnesses until emergency medical services (EMS) personnel take over. This class consists of a physical swimming pretest that must be completed before continuing in the class. Some offices may advertise the pretest and training classes separately, but they are considered one full course. Below are the requirements for the lifeguard training course.
The Pretest
The physical pretest must be completed before you can continue on to the training class portion of the course.
Swim 300 yards continuously demonstrating breath control and rhythmic breathing. Candidates may swim using the front crawl, breaststroke or a combination of both but swimming on the back or side is not allowed. Swim goggles may be used.

Tread water for 2 minutes using only the legs. Candidates should place their hands under the armpits.

Complete a timed event within 1 minute, 40 seconds.

Starting in the water, swim 20 yards. The face may be in or out of the water. Swim goggles are not allowed.

Surface dive, feet-first or head-first, to a depth of 7 to 10 feet to retrieve a 10-pound object.

Return to the surface and swim 20 yards to return to the starting point with both hands holding the object and keeping the face at or near the surface so they are able to get a breath. Candidates should not swim the distance underwater.

Exit the water without using a ladder or steps.
The Training Class
To pass this course, you must attend all class sessions, successfully perform all required skills, complete three final skill scenarios, and pass the written exam with a minimum grade of 80% or better on each section.

You must demonstrate competency in all skills and activities

This class is approximately 30 hours long usually over the course of a week.
Lifeguard Training Review Course
Returning lifeguards who are looking to recertify may take the Lifeguard Training Review course, as long as their current certification has not expired. If your certification is close to expiring or has just expired, contact your local office to discuss your training options. Once a lifeguard's certification expires they MUST take the full Lifeguard Training Course. Here are the requirements for the Training Review Course.
You must complete the physical pretest as described above.

The review course is about 10 hours long, including the pretest.

You must bring your current lifeguard training certification.

You must demonstrate competency in all skills and activities

You must pass the written exam with a minimum grade of 80% or better on each section.
After completing the hiring process and passing training, you are officially an American Pool Lifeguard and a member of the Guard For Life family! Your local recruiter will help place you at a pool that is close to your home. Now there is only one thing left to do… start making friends that will last a lifetime and get some hard-earned cash!
If you're interested in becoming an American Pool lifeguard, find a location near you to get started on the hiring process. To find lifeguard training courses near you, check out our training page. We also teach Pool Operator courses, CPR/AED Professional Rescue courses, and Lifeguard Instructor courses. All of our different class types can be found here. We hope to work with you this summer!