Making the Jump from Lifeguard Chair to Instructor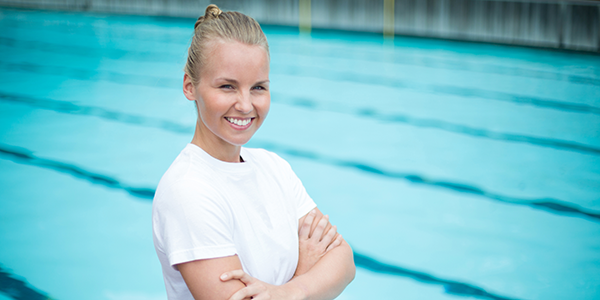 How many times have you asked yourself, "How can I help?" within the last few months? If the answer is more than once, then you might be a good lifeguard instructor candidate! With everything happening in the world right now, we need all the first responders we can get. What better way to help today than to teach others what you know?
As pools reopen to new standards and protocols, we need lifeguards more than ever. That also means we need lifeguard instructors more than ever. So if you want to help do your part — not to mention earn a little extra cash — then keep reading!
Why Become a Lifeguard Instructor?
Community pools depend on good lifeguards to stay open, and frankly, there just aren't enough lifeguards right now. There's definitely plenty of talent, but who will help shape it? You, that's who.
Lifeguard instruction offers a fun challenge for the lifesaver looking to put in some extra laps to further his or her aquatics career. Also, lifeguard instructors get paid more than their pupils, and who couldn't use a little extra cash right now? Our instructors can even pick up extra opportunities through American Pool's Lifeguard Safety Coaching Program.
Of course, money shouldn't be the only motivational factor for your desires. It takes a lot of effort and knowledge to be a lifeguard instructor, let alone a really good one. Those are usually traits possessed by those who feel like taking the next big step in their aquatics career has a bigger purpose than the numbers on their paychecks.
What Makes a Good Lifeguard Instructor?
You don't have to be the next Michael Phelps to be a good instructor, but good swimming and lifeguarding skills are obviously a must-have. That doesn't mean every lifeguard is a shoe-in for the job. But lifeguards don't wear shoes, so what harm is there in trying?
Being a lifeguard instructor means you have your knowledge base down pat. You know the rescue what's, why's and how's backward and forward and in your sleep; so well, that you can share it with others without having to check your notes for a reminder.
The odds are even more in your favor if you have experience with risk management or another first-responder role (EMTs and volunteer firefighters can be excellent lifeguard instructors!) And, of course, teachers and others with great communication skills have a knack for this sort of thing.
How to Become a Lifeguard Instructor
So, are you ready to make the jump from student to master? Before diving in, you need to show us you know your stuff. To be a lifeguard instructor, you also need to be:
At least 17 years old

Certified by the American Red Cross or other similar organization in:

Lifeguarding

First Aid

CPR

AED
That's only a sample of the boxes you'll need to check off before you start your training, so you'll need to take a look at the full list of lifeguard instructor prerequisites on our website first.
Lifeguard Instructor Classes
They sure don't make swimsuits like they used to, so Guard for Life is also keeping up with the changing times! We recently noticed our protocols were so 2019, so we made some much-needed updates to our lifeguard instructor courses. Now, the online portions are completed before any in-person or pre-test activities.
This change, along with many others, was made with you in mind to minimize risk and keep the training schedule flexible. It's all part of the new way we're making your training experience safer and more convenient.
We expect lifeguard instructor courses to be available very soon, so check back later in September to learn more and claim your spot while it's still available!