10 All-Too-Real GIFs Describing Lifeguard Stereotypes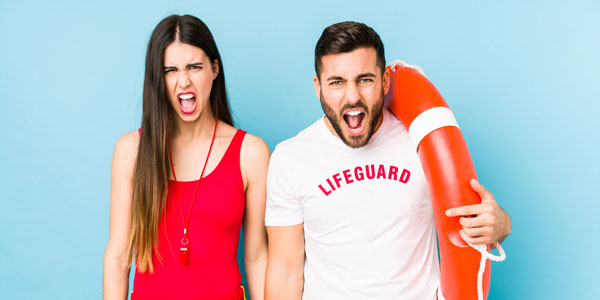 If you spend your summers twirling a whistle and constantly smelling like chlorine, then you might find yourself or someone you know on this list. Take a look!
1. The Whistleblower
No running! No splashing! No flips off the high dive! The Whistleblower, AKA The Rulebook, whistles first and asks questions later. That's this person's mentality, which can be a mixed bag. Sure, we want to enforce the rules. But contrary to popular belief, lifeguards want you to have fun, too!
2. The Gym Rat
Did they do three sets of 10 squats on Tuesday, followed by supersets of 12 pull-ups? Or was it the other way around with isolation holds? The Gym Rat, AKA Brotein AKA 6-Pack Jack AKA Fitness Francine, spends equal (if not more) time in a squat rack than a swim lane. We LOVE our fellow fitness-obsessed guards, by the way — it's a great way to crosstrain and stay in fit swim shape! Just make sure not to overdo it and save some energy for the job.
3. The Swim Team Captain
In high school, they swam the 50, 100, 200, and — just for fun — the 400 butterfly. Ryan Lochte shook their hand once at an invitational in Baltimore, so they're basically best friends now. While being a great swimmer is definitely a plus in this line of work, it's not everything.
4. The Nose
Did they even TRY to rub it in? And does anyone actually do this anymore?? Asking for a friend …
But for real, there's nothing less fortunate for a lifeguard's suntan than resembling an entree at Red Lobster. The Nose may look silly, but at least they stay burn-free by applying their sunscreen early and often!
5. The Shadow
Isn't Mike supposed to take the 1 o'clock shift at the diving well? Wasn't Christie supposed to log the afternoon chemistry readings? And who's the soon-to-be unfortunate soul who took the last slice of pizza?
Who knows what sloth lurks in the heart of a lazy lifeguard? The Shadow knows. We all know one, and we have some choice words for them when they show up late (or not at all). Here's a few tips if you have some personal experience working with a Shadow that pushes your nerves off the deep end.
6. The Backyard Chemist
AKA Bunsen Honeydew AKA Bill Nye AKA Marie Chlorine, The Backyard Chemist demolished their AP science exams and probably should be at MIT. You also love working the same shift as them, because they're a whiz when it comes to logging the pool chemistry. They can even tell you why pool chemicals deserve respect and should never be mixed! And, with a little background knowledge, you can be a Backyard Chemist, too!
7. The Afternoon Snoozer
Are they blowing their whistle, or is that just air escaping through interspersed snores? We get it — sitting out all day in the sun can be exhausting. We also SERIOUSLY HOPE this stereotype is more fiction than fact. As a lifeguard, families trust you to stay alert at all times, and the inability to do that could bring a permanent end to a fun summer job.
8. The Flirt
They got this job to land a date with their high school crush. They're usually extra with the perfume or the Axe body spray, and they always assume everyone wants to go out with them because they're a lifeguard. You can usually see The Flirt in their natural habitat, strutting the deck between shifts and letting their eyes wander behind polarized lenses. It's hard to judge The Flirt too harshly, unless it's getting in the way of their job duties while they're on the clock. They're also best friends with Katie Ledecky on the Gram, by the way.
9. The Grandma/Grandpa
Grandmas and Grandpas are good people. They bake cookies for the whole team, they give the best hugs, and they're always reminding you to reapply your sunscreen to avoid nasty burns. They might be a little overbearing at times, but what would you do without 'em?
10. Mr./Ms. Baywatch
Related to The Flirt and a distant cousin of The Whistleblower, Baywatch is always prepared to make a daring save (even if they need two takes for the slow-motion camera roll!) Don't get us wrong, intensity is part of the job — you're charged with saving lives, after all. But maybe Baywatch could save the dramatics for Theatre class next time?